I'll admit to being late to the pearl lovers community. For over 30 years of creating jewellery I've used everything from gemstones, semi-precious stones, gold, silver, copper, antique & vintage buttons, ceramics & porcelain, up-cycled & found items, wood, glass & crystals. It wasn't until 6 years ago, when I along with hundreds of other jewellery designers, were invited to participate in the first annual "Cygnet Bay International Pearl Design Competition." I had not given much thought to pearls before, although I had admired them, but never created with them. The main criteria for this competition was to use an Australian grown South Seas Pearl, from the Cygnet Bay Pearl Company. (Link to their website:) https://www.cygnetbaypearlfarm.com.au/our-tours/?utm_source=GMB Having secured one of their glorious pearls, I went on to design the winning piece, much to my joy! The competition was stiff and all the unique and beautiful pieces were worthy. I entered a ring which I called: "South Sea Dreaming." See image below. Winning this competition inspired me to look deeper into pearls and the possibility of incorporating them into my designs.
Next I completed a course called: "Pearls As One", offered by the Cultured Pearl Association of America. As I learned about these remarkable "Gems of the Sea", I wanted to know more. In the meantime, I started to include pearls in my jewellery, especially earrings and pendants. Once I released these onto the website, to my joy, they became bestsellers! I am thrilled and excited to create more in the coming months-Keep an eye on the website! https://www.reneeblackwelldesign.com/collections/pearl-earrings/ Before Covid, I traveled to Thailand and the USA every few years, to source the pearls I would use in my designs. By carefully hand selecting each pearl or strand of pearls, I am able to secure the best quality possible. Thankfully on the last few trips I came back with enough to last quite a while, although I can't wait to get back to traveling.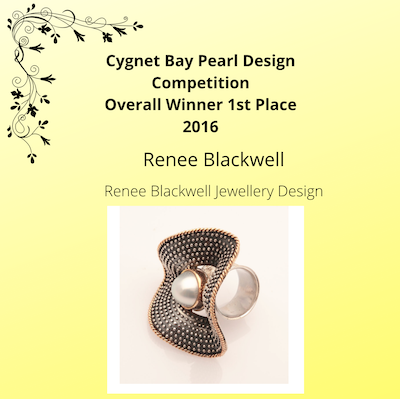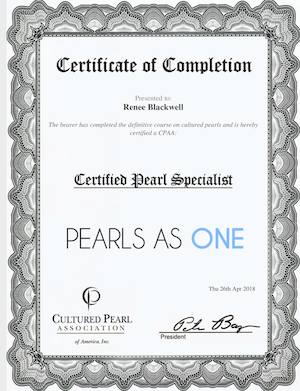 Did you know?
Pearl is the official birthstone for the month of June. Pearls are traditionally given on the 1st, 3rd, 12th and 30th wedding anniversaries.
An organic gem, pearls are formed inside mollusks such as oysters & mussels. They are formed when an irritant such as a tiny stone or bit of sand gets inside the shell. A lustrous substance called "nacre" is secreted around this irritant to protect the soft internal surface of the mollusk. As layer upon layer of nacre coats the irritant, a pearl is formed. This can take up to 7 or 8 years.
The most valuable pearls are perfectly symmetrical and naturally produced. However, there are many different types of pearls, all with their own unique beauty! Below are the main categories.
Cultured Pearls-Created as described above.
Biwa Pearls-Irregular shaped pearl.
Baroque Pearls-Pearls with irregular shapes.
Blister Pearls-Pearls that grow attached to the inside of a shell.
Black Pearls-Grey to black in colour.
Freshwater Pearls-Pearls that form in fresh water mollusks.
Mabe Pearls-Cultivated blister pearls.
Seed Pearls-Small, tiny pearls.
Kasumiga Pearls-Very rare pearls with a rosy hue.
Tahitian Pearls- Produced by the Tahitian Pearl Oyster
South Sea Pearls-Australian! Amongst the finest quality pearls grown anywhere in the world!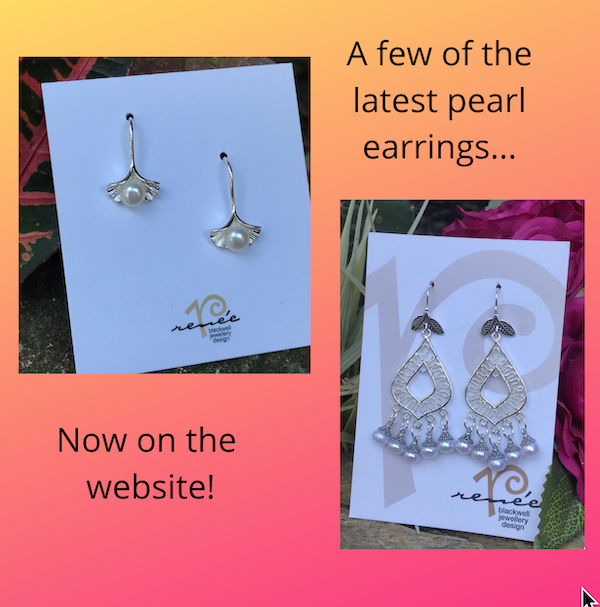 Pearls vary in colour from white to pastel, cream, even black, brown or silver. This colour variation depends on the type of mollusk and the water where the mollusk lives.
Care and Cleaning
Pearls are extremely sensitive to heat, humidity and chemicals. Handle, wear and store them with care.
Put your pearls on after applying cosmetics, hairspray or perfume. Wipe them clean with a soft cloth after wearing, as sweat can cause damage. Never soak pearls in water or any sort of jewellery cleaner.
When needed to clean, wipe the pearls clean with a barely damp soft cloth. (My silver polishing cloth is perfect for this.) If cleaning a pearl necklace in this way, always lay it flat to dry, so it doesn't develop kinks.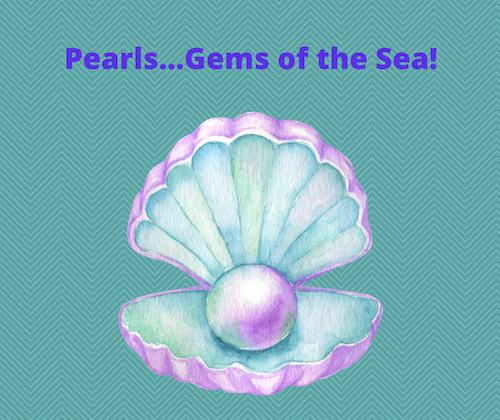 Go here to view the entire collection of glorious pearl treasures on the website: https://www.reneeblackwelldesign.com/collections/pearl-earrings/