 $120.00
Out of stock
Renee says: "Utterly remarkable two drop Swarovski crystal earrings, which are a hundred times more beautiful than photos can capture! If you like what you see in the images, you will ADORE these stunning two drop earrings dangling from your ears!  I have coupled two Swarovski crystals, the smaller is a smoky clear, the larger one a GLORIOUS watermelon/deep peachy colour. Set as always in solid sterling silver these are dancing from my traditional, shorter ear wire. Scroll thru' images for up close peek…and if you like what you see, well you will love the real deal!"
Length: 1.75 inches   44.45 mm    See photo of earrings next to Australian .20 cent coin for size reference.
Free Postage World Wide!
About Swarovski Crystals
Swarovski is the premium brand for the finest crystal embellishments since 1895. It is recognized for its innovation excellence and its collaborations with top-class designers and brands in the fashion, jewelry, accessories, interior design, and lighting industries across the globe.
Available in a myriad of colors, effects, shapes, and sizes, crystals from Swarovski offer a fabulous palette of inspiration and are produced according to the innovative, lead-free* Advanced Crystal standard.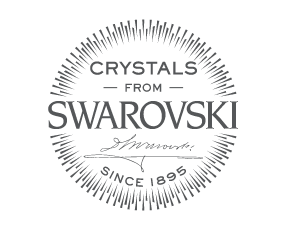 Rave Review:
I received a lovely pair of earrings from my sister. They came from Renee Blackwell Design, Queensland, Australia. They are so very elegant, so classy that they will be my go-to earrings. I have known Renee for many years and have other pieces she has made, and they are the most unique and special pieces that I own. When I wear them, I always get the nicest compliments! Janet
All all jewellery is individually packaged in beautiful Renee Blackwell Design Packaging.