You cannot add "Wonderful Swarovski Crystal Chandelier Drop Earrings #PCF" to the cart because the product is out of stock. $90.00
Out of stock
Renee says: "I have been asked for years to create stud/post earrings and have finally started to release my first pairs, and I'm thrilled with the results. I've dangled these  amazing "Champagne" coloured Swarovski crystals from my new sterling silver, marcasite ears studs. As with all Swarovski crystals, these are super shimmery/shiny and have that trademark sparkle! Light and easy on the ears, I guarantee you will love these one of a kind treasures as much as I do!"
Length: 1 inch   25.4 mm    See photo of earrings next to Australian 2.00 coin for size reference.
Free Postage World Wide!
About Swarovski Crystals.
Swarovski is the premium brand for the finest crystal embellishments since 1895. It is recognized for its innovation excellence and its collaborations with top-class designers and brands in the fashion, jewelry, accessories, interior design, and lighting industries across the globe.
Available in a myriad of colors, effects, shapes, and sizes, crystals from Swarovski offer a fabulous palette of inspiration and are produced according to the innovative, lead-free* Advanced Crystal standard.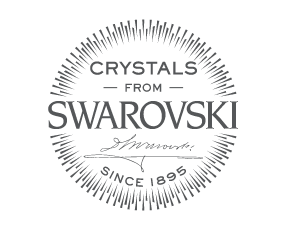 Rave Review:
I received a lovely pair of earrings from my sister. They came from Renee Blackwell Design, Queensland, Australia. They are so very elegant, so classy that they will be my go-to earrings. I have known Renee for many years and have other pieces she has made, and they are the most unique and special pieces that I own. When I wear them, I always get the nicest compliments! Janet