Sale!
1 in stock
Renee says: "I enjoy working with Swarovski crystals & sterling silver, and these earrings combine those two perfectly! Two lime green Swarovski crystals, top and bottom enhance the larger silver mandala like component. This large component is highly detailed and extra beautiful. The sterling silver ear wires are set with a multitude of wee shimmering crystals, for added bling. Without a doubt a statement pair for any green lover, yet light on the ears. Another one of a kind treasure fresh from the studio and guaranteed to put a smile on your face. Scroll thru' images for up close peek at a pair you will wear and enjoy for years to come!"
"Like the frosting on a cupcake, the perfect set of earrings is the ideal topping to any fabulous ensemble."
Length: 3.25 inches   82 mm   See photo of earrings next to Australian .50 cent coin for size reference.
Free Postage World Wide!

About Swarovski Crystals:
Swarovski is the premium brand for the finest crystal embellishments since 1895. It is recognized for its innovation excellence and its collaborations with top-class designers and brands in the fashion, jewelry, accessories, interior design, and lighting industries across the globe.
Available in a myriad of colors, effects, shapes, and sizes, crystals from Swarovski offer a fabulous palette of inspiration and are produced according to the innovative, lead-free* Advanced Crystal standard.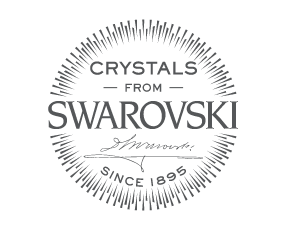 Rave Review:
Renee, I've been following your for some time on social media and have longed for a pair of your earrings. I finally treated myself and am thrilled-In fact, I just ordered another pair! The quality is amazing and I just love your vintage buttons. Thank You, Tracy-New York, USA