Sale!
1 in stock
Renee says: "New earring design fresh from the studio, and guaranteed to put a smile on your face! I have combined two silver toned patterned circles, and added a shimmery green Swarovski crystal. These dangle delightfully from my newer sterling silver ear wire, with a shiny crystal at the top for added bling. Super light and easy on the ears, this is a pair you will reach for over and over-Classy yet fun. It's hard to accurately describe how lovely these earrings are, but if you like what you see in the photos, you will love these in your jewellery collection. A real statement pair, due to their length, see dimensions below. Scroll thru' images for up close peek."
"Like the frosting on a cupcake, the perfect set of earrings is the ideal topping to any fabulous ensemble."
Length: 3.25 inches   82.55
Free Postage & Tracking World Wide!
About Swarovski Crystals
Swarovski® is the premium brand for the finest crystal embellishments since 1895. It is recognized for its innovation excellence and its collaborations with top-class designers and brands in the fashion, jewelry, accessories, interior design, and lighting industries across the globe.
Available in a myriad of colors, effects, shapes, and sizes, crystals from Swarovski offer a fabulous palette of inspiration and are produced according to the innovative, lead-free* Advanced Crystal standard.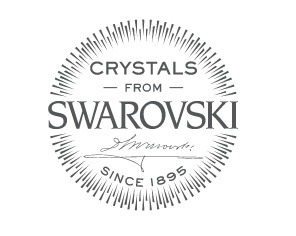 Rave Review:
Renee Blackwell, I ordered a pendant for my wife's 40th birthday, and to say she was delighted is an understatement. She has a few of your pieces and has enjoyed wearing them over the years, so I was pretty sure she would like another piece. Your designs are true works of art. Thanks, Larry Perth, Australia