$320.00
1 in stock
Renee says: "There really are not enough words to accurately describe how beautiful this Swarovski crystal pendant is-Utterly glorious! I have combined the deep, royal purple Swarovski crystal (top) with the lighter lavender Swarovski crystal (bottom) and set in sterling silver as a feature pendant. If you love purple, and are looking for a classy, stunning pendant that will never date or go out of style, this is the one for you. I have shown it with a silver chain (included) but it also looks nice with pearls, cuffs or even leather cord for versatility. Another one of a kind treasure, fresh from the studio!"
NOTE:It is difficult to capture the true colour, shimmer and shine of the larger purple drop (bottom) on this pendant. It's utterly superb, but does not really "show off" in the photos. So, if you like what you see in the images, you will LOVE this piece for real, I guarantee it!
Pendant Length: 3 inches   76. mm   See photo of pendant next to Australian .20 cent coin for size reference.
Chain Length: 20 inches    508 mm
Free Postage & Tracking World Wide!
About Swarovski Crystals:
Swarovski is the premium brand for the finest crystal embellishments since 1895. It is recognized for its innovation excellence and its collaborations with top-class designers and brands in the fashion, jewelry, accessories, interior design, and lighting industries across the globe.
Available in a myriad of colors, effects, shapes, and sizes, crystals from Swarovski offer a fabulous palette of inspiration and are produced according to the innovative, lead-free* Advanced Crystal standard.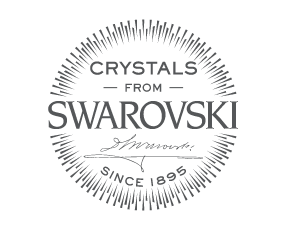 Rave Review:
My Beautiful earrings came in the post today Thank you Renee. Once again such beautiful designing done by your talented self. I'm starting to acquire a lovely collection. Krissy