Sale!
$120.00
1 in stock
Flash Sale!
Renee says: "There are not enough words to accurately describe these stunning earrings! Super sparkly, Pewter Swarovski crystals dance and dangle delightfully from my sleek, modern ear wire. Set as always in solid sterling silver, this is a pair that can be worn dressy or casual for ultimate versatility. If you like what you see in the photos, you will be thrilled with these for real, as it's impossible to capture their true glory in a photo. But they are magnificent!  Scroll thru' images for up close peek."
"Like the frosting on a cupcake, the perfect set of earrings is the ideal topping to any fabulous ensemble."
Length: 1.5 inches   38.1 mm
Free Postage & Tracking World Wide!
About Swarovski Crystals:
Swarovski® is the premium brand for the finest crystal embellishments since 1895. It is recognized for its innovation excellence and its collaborations with top-class designers and brands in the fashion, jewelry, accessories, interior design, and lighting industries across the globe.
Available in a myriad of colors, effects, shapes, and sizes, crystals from Swarovski offer a fabulous palette of inspiration and are produced according to the innovative, lead-free* Advanced Crystal standard.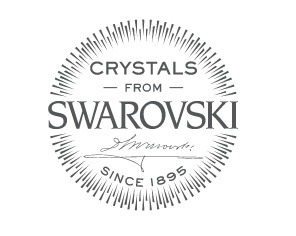 Rave Review:
Renee, Thank you for the amazing antique button earrings, so much nicer than the photos! I love your work and look forward to more treasures in the future. With Thanks, Deb St. Paul, Minnesota USA